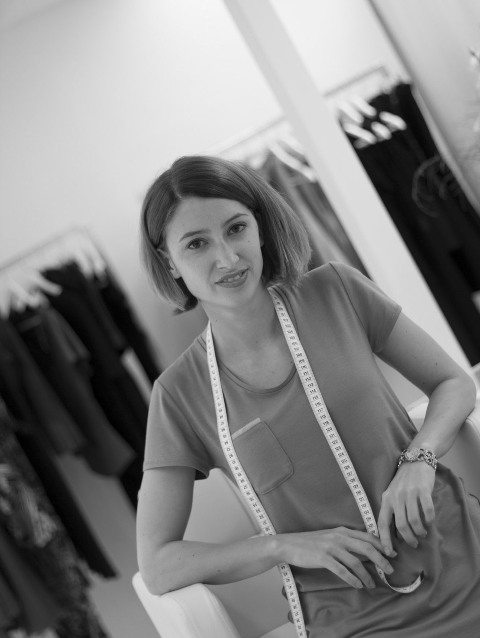 PHOTO © CHRISTOPH BRUNNER
NAME: Magdalena Auff
BERUF: Designerin
www.angelofpleasure.at

THIS IS hannainthehouse @MAGDALENA AUFF
-Was ist deine größte Selbsthilfe-Kompetenz?
In Stress- oder Problemsituationen einen kühlen Kopf zu bewahren, sachlich zu bleiben und ruhig nach logischen Lösungen zu suchen.
-Was war deine bisher schwierigste und was deine beste berufliche Erfahrung?
Meine schwierigste Berufserfahrung bisher – mit einer Kundin umzugehen, die mich betrügen wollte. Sie ließ sich Kleider anfertigen, sie wurden getragen, wollte sie aber im Nachhinein nicht bezahlen. In Zeiten von "Der Kunde ist König" muss man erst einmal lernen, dass man sich nicht alles gefallen lassen darf. Aus dieser Situation und deren Lösung habe ich viel Erfahrung mitgenommen.
Die beste Erfahrung, war die Eröffnung meines Shops! Ich bin immer noch froh darüber, diesen Schritt gewagt zu haben, und freue mich jeden Tag hier zu arbeiten.
-Was ist deine Stärke?
Genauigkeit! Natürlich kostet es viel Zeit (weshalb es gleichzeitig auch eine Schwäche ist 😉 )aber ich bin erst zufrieden, wenn etwas perfekt passt. Bewusst zu leben und zu schätzen, was man hat.
-Was hat dich dazu gebracht, als Designerin Angel of Pleasure zu gründen?
Als ich nach meiner Ausbildung eine Zeit lang in einer Schneiderei arbeitete, wurde mir klar, dass ich nur genau das machen kann, was mich glücklich macht, und authentisch sein kann, wenn ich mich selbständig mache. Diese Freude möchte ich mit meiner Mode weitergeben, was sich auch im Labelnamen Angel of Pleasure widerspiegelt.
VIELEN DANK MAGDALENA AUFF!  RESPEKT!
---
---
NAME: Magdalena Auff
PROFESSION: Designer
www.angelofpleasure.at

THIS IS hannainthehouse @MAGDALENA AUFF
-What is your greatest self-help resource?
In stressful situations, regarding problems, I try to keep my cool. I try to stay objective and calmly create logic solutions.
-What was your most difficult and what was your best working experience so far?
My most difficult working experience – to cope with a client, that wanted to betray me. She let her make colthes by me, wore them, but she wouldn`t pay for them. Times like "customer is king", you just have to learn, that you do not have to put up with everything. This situation and the solution out of it – that made me learn a lot of important lessons and experiences. The best working experience was my shop opening! I am just so happy about daring that step. I am full of joy every day working here.
-Was ist deine Stärke?
Preciseness! Of course it takes a lot of time (maybe that makes it a weakness too) but I am only satisfied, if something fits perfectly. To live consciously and to appreciate, what you have. 
-Was hat dich dazu gebracht, als Designerin Angel of Pleasure zu gründen?
After my education I worked in a tailoring for some time. I realised, I just can do excactly the thing, that makes me happy. I just can be authentic, If I am self employed. This joy I wanna share with my fashion label. And that is reflected in the name Angel of Pleasure.
THANK YOU SO MUCH MAGDALENA AUFF!  RESPECT!