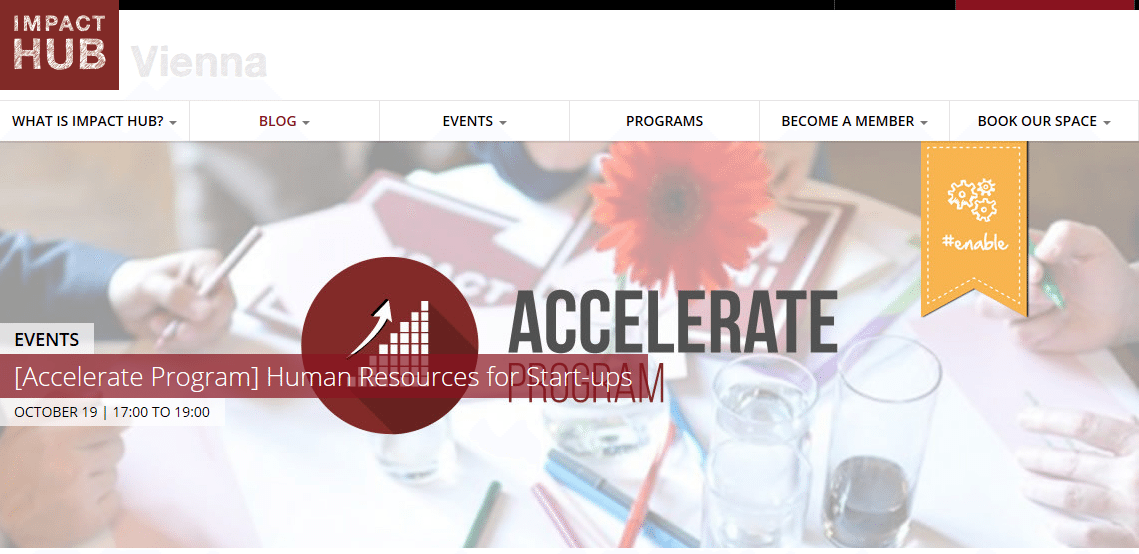 PHOTO © IMPACT HUB VIENNA
WORKSHOP HUMAN RESOURCES FOR START-UPS
https://vienna.impacthub.net/event/accelerate-program-human-resources-for-start-ups/
The HUMAN RESOURCES WORKSHOPS FÜR START-UPS is interesting for small companies, start ups that do not  have a human resources generalist or a professional recruiter on board. The workshop gives advice about Human Resources Tools for the Recruiting of Employees.
What are the most important ingredients of a top Start-up? The Team itself is highly important, thats for sure! The Benefit of the workshop: To recruit a top team. To implement relevant Human Resources Topics in your corporate culture, that will lead you to success.
Or if you already have recruited by your natural style, it is also a good check up, how professional Human Resources Generalists work.
To my Person:
I worked in Human Resources corporate. I studied at the Vienna University of Economics and Business, specialized in Diversity Management. Further education in Coaching (ESBA European Systemic Business Academy), Human Resources (WIFI Wien) and Recruiting (ARS Wien).
And now as a founder my Human Resources Workshops are based on these working and educational experiences.
TOPICS
– How to recruit a great team
– CV Check: How to "read" a CV and general and specific advice in the recruting process.
– How to recruit new employees, how to set up and manage a structured, professionell job interview.
– How to write applications for the current positions/vacancies. – Onboarding of new employees.
How to build up a corporate culture, corporate communication. Relevant topics from onboarding new employees to the employee termination.
– The appearance (Dress for Success, Style Appearance: Which outfit fits for your concrete type, individuality and for your corporate culture. And of course your potential cooperations – appearance meeting new clients, customers).
To register via Eventbrite:
https://www.eventbrite.com/e/accelerate-program-human-resources-for-start-ups-tickets-27727501704
Or contact Ioana Constantin: ioana.constantin@impacthub.net
---
---
Dieser HUMAN RESOURCES WORKSHOPS FÜR START-UPS ist interessant für  Start-ups, Unternehmer, EPUs, die meistens keine eigene Personalverantwortliche, keinen professionellen Recruiter haben.
Was sind die wichtigsten Zutaten für ein top Start-up? Das Team selbst ist definitiv absolut essentiell.
Der Benefit: Wie rekrutiere ich gezielt ein Top Team?
Wie werden Human Resources Anliegen professionell in die Unternehmenskultur implementiert, sodass sie dem großen Ganzen beim Erfolg unterstützen.
Wer schon nach eigenem Gefühl rekrutiert hat, kann dies als Check-up nehmen: Wie ein Human Resources Generalist, professioneller Recruiter vorgeht und umsetzt.
Zu meiner Person:
Ich habe im Personalwesen/Human Resources gearbeitet. An der WU Wien/Vienna University of Economics and Business habe ich das Diplomstudium Betriebswirtschaft absolviert. Meine Spezialisierung war Diversity Management.
Außerdem habe ich Ausbildungen im Bereich Coaching (ESBA European Systemic Business Academy), Human Resources (WIFI Wien) und Recruiting (ARS Wien).
Und nun als Gründerin von hannainthehouse basieren meine Human Resources Workshops auf meiner Erfahrung aus Berufsleben & Ausbildungen.
THEMEN
-Wie rekrutiere ich ein Top Team, die zum Start-up passenden MitarbeiterInnen?
-Verfassen von Stellenannoncen.
-CV Check: Wie lese ich einen CV richtig, auf was muss man achten.
-Abhaltung eines professionellen, strukturierten Recruitinggesprächs mit den Bewerbern, potentiellen, neuen Mitarbeitern.
-Kompetentes Aufsetzen des Recruitingprozesses
-Onboarding, Unternehmenskultur, Kommunikation
-Mitarbeitergespräch
-Erscheinungsbild (Dress for Success, Style Appearance: Welche Outfits passen zum individuellen Typ, zur Unternehmenskultur. Zum Auftritt bei potentiellen Kooperationspartnern oder Kunden)
Anmeldung via Eventbrite:
https://www.eventbrite.com/e/accelerate-program-human-resources-for-start-ups-tickets-27727501704
Oder bei Ioana Constantin: ioana.constantin@impacthub.net
---
---