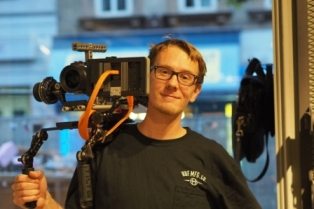 NAME: Andreas Habermaier
BERUF: Cinematographer, Colorist and VFX-Artist at Frame Fatale,
Lecturer for Editing Software and Postproduction Workflows at SAE Institute Vienna www.framefatale.at
THIS IS hannainthehouse @ANDREAS HABERMAIER
-Wie motivierst du dich an einem bad day?
Das hängt ein bisschen vom Auslöser meines "Bad Days" ab, aber meistens versuche ich mich gedanklich etwas davon zu entfernen bzw. die Situations etwas objektiver zu beurteilen. Hilft gar nix mehr, gehe ich Skateboard fahren, da kann ich das Hirn am besten abschalten und einfach nur die körperliche Betätigung genießen.
-Was war deine bisher schwierigste und was deine beste berufliche Erfahrung?
Mich ein zweites Mal selbstständig zu machen und mich damit wieder in die Fänge unseres lieben Bürokratiewahnsinns zu begeben. Aber es hilft alles nix, in dem Bereich in dem ich tätig sein möchte, bleibt es mir nicht erspart. Sozusagen "part of the game" .Dies war zugleich die schwierigste und beste Erfahrung!
-Was ist deine Stärke?
Ich denke mal meine Genauigkeit und meine Detailverliebtheit. Ebenso meine Lern – und Lehrfähigkeiten: ich kann mir neue Informationen sehr schnell merken, sie aber auch gut, zb. an meine Studenten, weitergeben.
Was macht dich glücklich?
Filmmaking! Es ist wirklich ein großes Glück, dass ich meine Passion zu meinem Beruf machen konnte.
Aber allgemein, wenn ich andere glücklich machen kann, bin ich selber der Glücklichste.
VIELEN DANK ANDREAS HABERMAIER!  RESPEKT!
---
---
NAME: Andreas Habermaier
PROFESSION: Cinematographer, Colorist and VFX-Artist at Frame Fatale,
Lecturer for Editing Software and Postproduction Workflows at SAE Institute Vienna www.framefatale.at
THIS IS hannainthehouse @ANDREAS HABERMAIER
-How do you motivate yourself bad day?
That depends, what has caused my "bad day". But most of the time I try to distance my mind a bit from that and to look a little bit more objective to the situation. If nothing helps, I go skate boarding, because this ist he best way for me to relax and clear my head. Just enjoying that body movement.
-What was your best and what was your worst working experience so far?
To make myself self-employed for the second time. And so to give myself to our bureaucracy craziness. But it doesn`t help. In the business I want to work, I gotta do that. It`s part of the game. This was my best and my most difficult working experience at the same time.
-What is your strength?
I think my accuracy and my love with details. I also would see my ability to learn and to teach as my strengths. I am really good at remembering new information and also talented in passing that informtion on to my students.
What makes you happy?
Filmmaking! It`s such a great luck that I was able to make my passion to my profession. In general, I am happy, when I can make others happy.
THANK YOU SO MUCH ANDREAS HABERMAIER!  RESPECT!