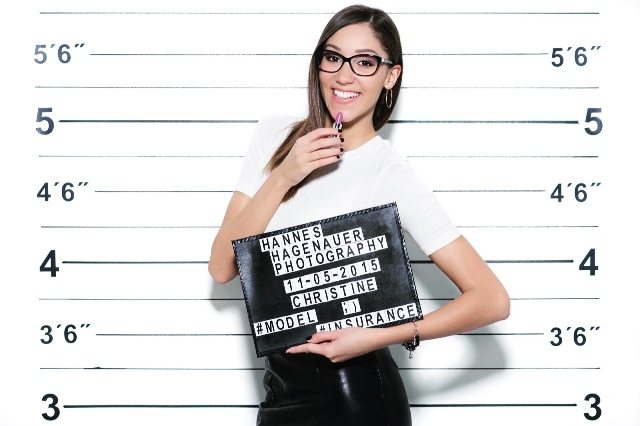 PHOTO © HANNES HAGENAUER
NAME: Christine Halwachs
BERUF: Versicherungskauffrau, Model
www.addictedtomodels.com
www.grawe.at

THIS IS hannainthehouse @CHRISTINE HALWAYHS
–Wie motivierst du dich an einem bad day?

An einem bad day motiviere ich mich immer mit der Einstellung das kein kompletter Tag ein bad day ist! Es gibt an jedem Tag schöne und nicht so schöne Dinge man muss einfach das beste draus machen. Ich habe ein hohes Level an Selbstmotivation somit reicht es meistens schon wenn ich mir in solchen SituationenDinge ins Gedächtnis rufe die super funktioniert haben bzw ich schon überstanden/geschafft habe.
-Was war deine bisher schwierigste berufliche Erfahrung und wie hast du sie überwunden?
Meine bisher schwierigste berufliche Erfahrung war der Einstieg in meinen jetzigen Job. Es war für mich ein Sprung ins kalte Wasser als ich vor 5 Jahren bei der Grazer Wechselseitigen begonnen habe.
Ich bin frisch aus dem Schulalltag gekommen und gleich in einen Job eingestiegen der sehr viel Reife, Fachwissen, Kompetenz und Selbstorganisation verlangt.
Es war zu Beginn eine Herausforderung mir das ganze Wissen durch meine fachspezifische Ausbildung bei der GRAWE anzueignen und gleichzeitig aber schon voll im Job tätig zu sein.
Man lernt in diesem Beruf nie aus da man ständig alle Erneuerungen der Finanz/Versicherungssparte kennen muss um seine Kunden bestens beraten zu können.
Nach meiner mit Erfolg bestandenen BÖV Prüfung (staatlich geprüfte Versicherungsfachfrau) konnte ich mich voll und ganz aufs Arbeiten und meine Kunden konzentrieren. Ich musste in dieser Zeit viel Selbstdisziplin an den Tag legen um den weiteren Ausbau meines Kundenstocks nicht durchs lernen und die Prüfungen ins stocken geraten zu lassen. Was mir in dieser Zeit sehr geholfen hat war mein Verantwortungsbewusstsein zum selbstständigen arbeiten das mehr oder weniger meine große Stärke ist.
-Was macht dich glücklich?

Ich bin ein sehr bodenständiger Mensch und Liebe es Zeit in meinem Zuhause zu verbringen.  Weiters brauche ich um richtig glücklich zu sein ständig Leute um mich seien es Freunde, Familie, mein Freund Paul oder einfach neue Leute die ich kennenlerne. Ich brauche sozusagen immer Action und neue Herausforderungen.
-Was ist deine größte Selbsthilfe-Ressource?
Meine größte Selbsthilfe-Ressource bezieht sich sehr stark auf mein Element… LUFT.
Ich bin sehr viel in der Natur und treibe gerne Sport. Das ist sozusagen mein Ruhepol bzw mein Kontrastprogramm das mich immer wieder pusht.

VIELEN DANK CHRISTINE HALWACHS!  RESPEKT!
---
---
NAME: Christine Halwachs
PROFESSION: Insurance broker, Model
www.addictedtomodels.com
www.grawe.at
THIS IS hannainthehouse @CHRISTINE HALWAYHS
–How do you motivate yourself on a bad day?
On a bad day, my motivation, I keep in mind, that no day is completly bad. There are beautiful and not so good things in every day. You just gotta make the best out o fit. I have a high level of self-motivation. So I just have to focus on things that worked out well, that I have succesfully achieved.
-What was your worst working experience and how did you overcome that?
 The most difficult working experience so far was the beginning of my current job. Five years ago I startet at the insurance company Grazer Wechselseitige – for me a jump into cold water. I was fresh out of school. And started a job, where maturity, competence, know how, self organisation is essential. At the beginning it was a real challenge to learn all expertiese through my education at GRAWE – by being in the job already. Learning never stops in this job, because there are always changes and news in the finance/insurance sector. And you have to be able to advise your clients the best way you can.
After my successfully passed BÖV exam (certified insurance clerk) I was able to fully focus on my work and my clients. I had to be very self-disciplinated that I do not get stuck with building my customer base, because of my learning sessions for my exam. What really helped me at that time was my responsibility awareness regarding my independent working ability – which is my greatest strength.
-What makes you happy?
I am very down to earth. I love to spend time at home. I need people around myself, to be really happy – my friends, my family, my boyfriend Paul. Or just people, I get to know. I always need some action and challenges.
-What is your greatest self-help resource?
My greatest self help resource is based on my element… AIR! I love to be in nature, doing sports. That is my place of peacefulness, my strongest tranquilitiy – my contrast, that puhes me again and again.
THANK YOU SO MUCH CHRISTINE HALWACHS!  RESPECT!