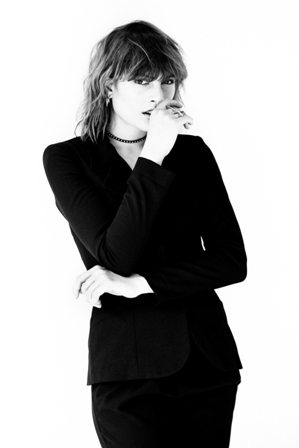 PHOTO © VALERIE ANGELOV/VOGUESTUDIOS
NAME: Kristina Nikolic
BERUF: Model
www.nextmanagement.com
www.wienermodels.com
www.contempomodels.com
Instagram kristinakristanikolic
THIS IS hannainthehouse @KRISTINA NIKOLIC
– Was ist deine Stärke?
Ich denke, dass meine größte Stärke mein Wille ist. Meine Vergangenheit ist geprägt von Verlusten, Enttäuschungen und Neutralität durch meine Familie, sowie (auch ehemaligen) Freunden.
Ich habe schlimme Sachen durchgemacht und zwischendurch natürlich ans aufgeben gedacht. Jedoch hab ich mir immer klar gemacht, dass es so viel leiden auf der Welt gibt und es liegt an jedem selbst wie man damit umgeht.
Einige meiner Bekannten und Freunde sind an ihrer Vergangenheit zerbrochen und haben den falschen Weg gewählt. Ich bin sehr dankbar für meine Vergangenheit, weil sie meinen Willen stärkt tagtäglich!
Um nichts auf der Welt würde ich mein Leben umtauschen!
-Wie motivierst du dich an bad days?
Ich habe öfters "bad days" und weiß mittlerweile sehr gut wie ich damit umgehe. Je nachdem wobei es sich handelt analysiere ich mich selbst und versuche herauszufinden was los ist.
Ein gutes Beispiel wäre, zu erfahren, dass ich obwohl ein Casting gut gelaufen ist, jenen Job trotzdem nicht gekriegt habe. Zuerst bin ich enttäuscht und gebe mir alle Schuld der Welt.
Schlechtes schauspielern, grausam gepost, falsches Outfit angehabt, etc. Sobald ich aber bemerke , dass ich viel zu weit ins negative gehe, schalte ich wortwörtlich einen Schalter um und suche für mich logische Erklärungen. Wahrscheinlich suchten sie einen anderen Typ. Etwas längere Haare. Vielleicht eine Blondine usw. Ich mache mir klar, dass ich immer mein bestes gebe und der nächste Erfolg nicht weit ist.
-Was war deine bisher schwierigste und deine bisher beste berufliche Erfahrung?
Die schwierigste Erfahrung bisher war, als ich realisierte wie oberflächlich das modeln tatsächlich ist. Ich wusste, dass man keine (oder kaum) richtige Freunde in diesem Beruf machen kann, jedoch habe ich meine ersten Jahre mit dem Gedanken verbracht, dass meine Agenturen nur das beste für mich wollen und alles Mögliche versuchen um mich weiterzubringen. Nein. So ist es leider nicht.
Mit den Jahren kommen neue Gesichter, neue Lieblinge. Die "alten" werden in die Ecke geschoben und mit leeren Versprechungen abgestellt. Meine beste Erfahrung ist und wird immer sein die vielen Leute die ich Kennenlernen konnte/kann in den vielen Ländern die ich bereisen durfte/darf.
Soviele verschiedene Charaktere und Geschichten. Bekanntschaften, die zu Freundschaften führten und zu einzigartigen Erlebnissen.
-Was macht dich glücklich?
Meine Freiheit. Um nichts in der Welt würde ich mir meine Freiheit nehmen lassen. Mit Freiheit meine ich mein Leben. Ich möchte von nichts und niemanden dirigiert werden, wenn ich es nicht will.
Ich liebe es von anderen und von Erlebnissen zu lernen und Kommandos anzunehmen, jedoch nur wenn ich glaube, dass es in meinem Sinne ist.
Ich selbst sage manchmal, dass ich ein Rebell bin. Einer der mit jedem umgehen kann, jedoch dadurch manchmal auf Missverstehen trifft. Und ich bin zufrieden damit, weil ich so noch stärker werde.
VIELEN DANK KRISTINA NIKOLIC! RESPEKT!
---
---
NAME: Kristina Nikolic
PROFESSION: Model
www.nextmanagement.com
www.wienermodels.com
www.contempomodels.com
Instagram kristinakristanikolic 

THIS IS hannainthehouse @KRISTINA NIKOLIC
– What is your strength?
I think that my will is my greatest strength. My past was shaped from loss, disappointments and neutrality through my family and former friends. I have been through some negative times and I thought about giving up. But I always made it clear to myself, that there is so much pain on this world.
And you are responsible for yourself, how you handle all that. Some of my acquaintances and friends have been shattered and broken because of their past.
They have chosen the wrong way. I am very grateful for my past, because it strenghtens my will everyday new. And for nothing in the world I would change my life.
-How do you motivate yourself on bad days?
I quite sometimes have "bad days". And now I know how to cope with it. I analyse myself and think about, what caused the bad day. A good example is, when a casting was good, but I did not get the job. First I am disappointed and blame myself.
Like I didn`t act right or maybe I have worn the wrong outfit,… and so on. But the moment I realise I drift into to much negativity, I manage that the switch is turned and then I search for logical reasons. Maybe I was just not the type for that job. Maybe they wanted a model with longer hair, maybe they wanted a Blonde,…. I try to point out to myself, that the next success is not far away.
-What was your best and what was your harshest working experience so far?
The most difficult working experience for me was to realise, how superficial the model business is. I knew, you cannot make real friends (or maybe just few friends) in that business. But I spent my first years as a model thinking about, that my agencies just want the best for me.
And that they are doing everything for me, that keeps me going forward. No. Unfortunately it is not like this. With the years new faces are coming up, new darlings. T
he "old ones" are put in a corner with empty promises. My best experiences are and always have been, to meet so much people, to travel so many countries. So many personalities and matchless stories. Acquaintances.. who were growing into friendships and leading to unique experiences.
-What makes you happy?
My freedom. For nothing in the world I would someone take my freedom. Freedom for me means the way I live. I do not want anyone or anything to conduct me, if I don`t want it that way.
I love to learn from others and from experiences and to take command – but only, if I think, it is in my interests. Sometimes I say, I am a rebel. Someone who can cope with everyone.
Sometimes I feel misunderstood. But I am satisfied with that, because it makes me stronger.
THANK YOU SO MUCH KRISTINA NIKOLIC! RESPECT!