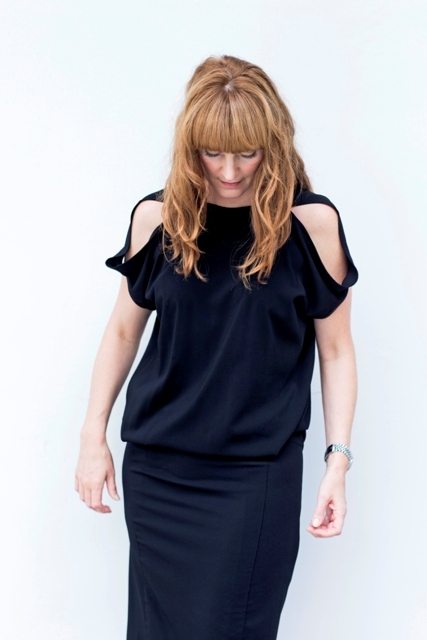 PHOTO © ERNST KAINERSTORFER
NAME: Michel Mayer
BERUF: Designerin
https://www.michelmayer.at

THIS IS hannainthehouse @MICHEL MAYER

-Wie motivierst du dich an einem bad day?
Meist indem ich etwas Neues entwerfe, indem ich an der Schneiderpuppe so lange herum drapiere und gestalte, bis irgendetwas daraus entsteht – kreativ und vor allem mit meinen Händen zu arbeiten hilft eigentlich immer, leider hab ich nicht immer die Zeit dafür…
-Was war deine bisher schwierigste und was deine beste berufliche Erfahrung?
Eine meiner besten Erfahrung in meiner beruflichen Laufbahn war der internationale Erfolg meines Labels. Es war eine wunderbare Bestätigung meiner kreativen Arbeit zu sehen, dass nicht nur meine Kunden in Wien sondern auch unterschiedlichste Boutiquen weltweit mein Label in Paris und London orderten.
Gleichzeitig bedingte dies meine bisher schwierigste berufliche Entscheidung: aufgrund fehlender finanzieller Unterstützung/Förderung musste ich meine internationale Karriere trotz anfänglicher Erfolge wieder auf Eis legen.
Mein Label war bereits in verschiedenen Shops in Amerika, Saudi Arabien und Europa vertreten.
-Was ist deine Stärke?
Ich denke ein gewisser Ehrgeiz und Durchhaltevermögen. Eine Vision, die es zu verfolgen gibt und vor allem das große Glück, das beruflich verwirklichen zu können, was ich schon als kleines Mädchen machen wollte.
-Was war deine Motivation, dich selbständig zu machen als Designerin Michel Mayer?
Um ganz ehrlich zu sein, ich hab damals vor 20 Jahren nicht großartig darüber nachgedacht – für mich schien es das einzig Naheliegende zu sein, meine Berufung zu meinem Beruf zu machen.
Hätte ich damals viel darüber nachgedacht, hätte ich es vielleicht gar nicht gewagt..
VIELEN DANK MICHEL MAYER! RESPEKT!

---
---
NAME: Michel Mayer
PROFESSION: Designer
https://www.michelmayer.at
THIS IS hannainthehouse @MICHEL MAYER
–How do you motiviate yourself on a bad day?
Most of the time I design and create new things. I like to shape, form and drape at the tailor doll until something emerges. Being creative and above all working with my hands alwys helps. Unfortunately I do not always have the time for that…
-What was your most difficult and what was ypur best working experience so far?
One of my best working experiences in my career was the international breakthrough of my label Michel Mayer. It was a wonderful acknowledgement of my creative work, that not only my clients in Vienna, but also shops and boutiques in Paris or London ordered my collections.

At the same time my most difficult decision in my carrer was, that because of a lack of financial support I had to stop my international work. My label was already represented in several Shops in America, Saudi Arabia and Europe.
-What is your strength?
I think my ambition and stamina. A vision, I have to follow, and of course the great luck I can fulfill my dreams as a profession, that I wanted to do since I was a little girl.
-What was your motivation to found Michel Mayer?
Honestly, 20 years ago, I didn`t really think that much about it.
For me it seemed like the only real relevant the most obvious, to make my appeal my profession.
To fulfill my calling. If I would have thought too much about it, maybe I would not have dared that step…
THANK YOU SO MUCH MICHEL MAYER! RESPECT!