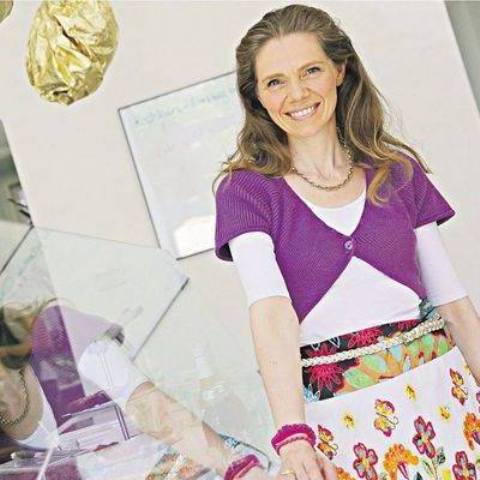 PHOTO © ANDREA VAZ-KÖNIG

NAME: Andrea Vaz-König
BERUF: Pionierin, Unternehmerin, Brückenbauerin
https://www.delibluem.com

THIS IS hannainthehouse @ANDREA VAZ-KÖNIG
-Wie motivierst du dich an einem bad day? 
 "Liebe was ist!" Der Tag ist nicht schlecht, es sind nur meine Gedanken, die ihn zu einem schlechten Tag machen. Wenn etwas passiert was mir missfällt versuche ich – sofern es in meinem Einflussbereich steht – das Beste daraus zu machen und die "Lektion" aus der Situation zu lernen.
Ich bin überzeugt davon, dass der Sinn unseres Lebens darin besteht Erfahrungen zu machen und uns daran und damit weiterzuentwickeln.
-Was war deine bisher schwierigste und was deine beste berufliche Erfahrung?
Meine schwierigste berufliche Erfahrung: mit einem alkoholkranken Kollegen ein Gespräch über seine Situation und seine Zukunft zu führen.
Meine beste berufliche Erfahrung: die Weihnachtskarte dieses Kollegen einige Monate später – sie ist für mich ein ständiger wunderbarer Begleiter und ein Beweis dafür worauf es wirklich ankommt im Leben. Und ein Beweis dafür wieso wir niemals schwierigen Momenten aus dem Weg gehen sollten sondern sie als Geschenk wahrnehmen sollten.
-Was macht dich glücklich?
Mit meiner Familie zu sein, in meinem Garten zu sein, Projekte zum Leben zu erwecken und dabei wunderbare Weggefährten kennenzulernen
-Was ist deine Stärke?
Mein Wunsch zu lernen, mich weiterzuentwickeln.
Der Mut dabei neue Wege zu beschreiten – das deli bluem ist ein sichtbares Beispiel dafür – das Wesentliche ist jedoch nur mit dem Herzen sichtbar 😉
VIELEN DANK ANDREA VAZ-KÖNIG! RESPEKT!
---
---
NAME: Andrea Vaz-König
PROFESSION: Pioneer, Entrepreneur, "Building Bridges"
https://www.delibluem.com
THIS IS hannainthehouse @ANDREA VAZ-KÖNIG
-How do you motivate yourself on a bad day? 
"Love what is!" The day isn`t bad. It`s your thoughts. That make it a bad day.
If something happens, that displeases me – as far I can influence it, I try to make the best out of it.
To learn the lesson of that situation.
I believe that the sense in life is about making experiences and through them to develop and evolve yourself.
-What was your best and what was your harshest working experience so far?
My most difficult working experience: To talk with an alcoholic colleague about his situation and his future.
My best working experience so far: The christmas card of this colleague a few month later.
That card for me is a constant companion and a proof of what really matters in life.
And a proof to never walk away from those difficult moments. Take these difficulties as a present.
-What makes you happy?
Being with my family, being in my garden. Bringing projects to life and meeting wonderful companions on my way.
-What is your strength?
My desire to develop and evolve myself.  The courage to treat new paths.
deli bluem is a visible example for that. But the essential you can only see with the heart 😉
THANK YOU SO MUCH ANDREA VAZ-KÖNIG! RESPECT!